Family Elopidae, TARPONS
Megalops atlanticus*
Description: last ray of dorsal fin extended into long filament; one dorsal fin; back dark blue to green or greenish black, shading into bright silver on the sides; may be brownish gold in estuarien waters; huge scales; mouth large and points upward.
Fishing Areas:
Every year Mothers Day kicks off the tarpon season in our area. Bayport (really chaz) held the #2 spot in the world for big tarpon. Over the last 10 years the tarpon migration to this area has steadily decreased. However that is not to say the tarpon fishing is not worth the efforts. Tarpon are mostly found inshore, but a there are a few schools of tarpon seen offshore.
North:
Bayport to Chaz is where most of the tarpon are caught. Black Rock hole is one of the favorite hot spots for tarpon.

South:
Many smaller tarpon can be found in the channels and on the grass flats during the tarpon season and through our the summer.

Baits:
Tarpon are not very picky. They will take live bait (pin fish, whitebait, sand perch, ballyhoo etc) cut bait (anything big and stinky, mullet, lady fish, etc) and a verity of lures.
Tackle:
This will depend on the fisherman, tarpon can be brought boat side with as little as 10# spinning gear. Provided you are up for the chase. Most tournament anglers will use high speed conventional reels with 30-50# mono. Of course there is the fly rod. Typically you if you plan on targeting tarpon and you are new to tarpon fishing, you will want to use a heavy (30# class) spinning gear with a 7ft matching rod. Then down size once you have a few releases to increase the challenge.
Tarpon Fishing Etiquette:
Tarpon fishing is a very competitive, expensive and time consuming sport. When targeting tarpon, you must understand a few rules.
DO NOT use your motor when in an area where you or others are stalking tarpon.
Find your own pod of tarpon to stalk, if someone is moving toward a pod of rolling tarpon, you will need to find your own pod. If you spook the fish no one will do any catching.
If another angler has a fish on,

it is your responsibility

to remain clear of the fight. There is nothing worse then losing a tarpon due to another boater.
Tarpon fishing is very competitive and tempers can run high, so be patient and treat other anglers and boats in the same manor you would like to be treated.
If you are new to the sport, try fishing on weekdays in the afternoon. As most seasoned anglers will fish the early to mid morning. As a result you will have a more and better opportunities to catch fish and learn what to expect. A big tarpon is much more fight than most expect.
Never use stainless steel hook. You will want hook that will fall out in a few days.
Never boat the fish. Always release the fish boat side, by breaking or cutting the leader. Lifting the fish out of the water and in to your boat can be fatal to fish as well as your favorite rod, sunglasses, tackle boxes and anything else the tarpon will smash.
Be safe!
Tarpon Pictures:
……………………………………………………………………………………………………………………………………………..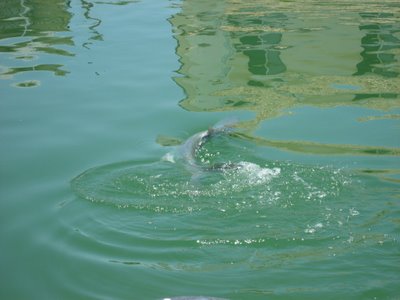 Tarpon caught off my dock, fortunately the fish decided to stay close.
If you have a picture(s) of tarpon we would love to post it here, please send a request through the contact form for instructions.
* Identification Information From: myFWC