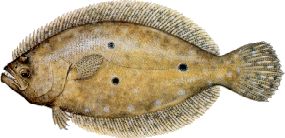 Family Bothidae, LEFTEYE FLOUNDERS
Paralichthys albigutta
Description: body color brown, its shade depending on color of bottom, with numerous spots and blotches; 3 prominent eye-like spots forming a triangle; one spot on lateral line, one above, one below; numerous white spots scattered over body and fins (albigutta, white-spotted); strong canine-like teeth; caudal fin in shape of wedge, its tip in the middle.
Gulf Flounder can be found both inshore and offshore out to 25ft. They range from Centipede bay out to the tanks. There is a large sandy spot just north of the tanks that holds flounder in the summer and fall. They also can be found along the rocky bottom in 8 to 16 ft of water. Flounder are not usually the target fish when caught, however there are a few anglers do target flounder. Typically they are divers that have come across a rocky or sandy area that is holding flounder.
Flounder Pictures:
……………………………………………………………………………………………………………………………………………..
If you have a picture(s) of flounder you caught and would like to post them here, please let us know by using our contact form.
* Identification Information From: myFWC