Bottom Fish:
White Grunt: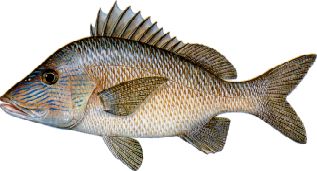 Very common just about any rock, ledge or reef. They are also know as white snappers, key west snappers, but they are in the grunt family.
Depending on how far offshore you go, you may encounter pelagic fish (fish that do not live on the bottom) that migrate well off our coast.
Pelagic:
Dolphin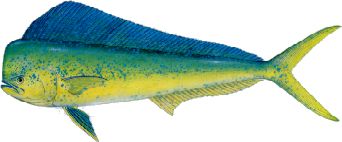 In the summer dolphin can be found 60+ miles from Hernando Beach. Typically these fish will be less than 5 pounds. Larger fish can be found near the loop or about 160 miles offshore.
Sailfish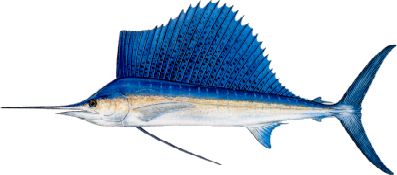 Marlin

Sailfish, White, and Blue Marlin can be found out near the loop in the spring through fall. Every year there are bill fish tournaments held in the panhandle. Typically the angles run about 250 miles south, which puts them about 150 miles west of Hernando County.
Yellow fin, black fin tuna and Bonita, can be found in the summer out near the loop.
There are not many anglers who venture out for the pelagic fish, due to the high cost of fuel. However I know a few anglers with large sail boats that fish the loop, with trips lasting a few days. I think this may become more appealing if gas prices continue to climb.
* Identification Information From: myFWC